The CUHK Dance Medicine Research Clinic has been inaugurated since 2019 by the Department of Orthopaedics & Traumatology from the Faculty of Medicine CUHK in collaboration with the Hong Kong Association of Dance Medicine and Science (HKADMS).
Our main objective is to provide a timely, high-quality and patient-oriented consultation to all dancers. We hope that the establishment of this clinic will be a small move in the advance development of Dance Medicine in Hong Kong. Currently, we provide this service to all dance teachers/instructors and professional/pre-professional dancers.
Our pro bono Research Clinic is now open.
If you believe you are eligible, please register or send an email to
dancemedicine@cuhk.edu.hk
or
Click and Register Now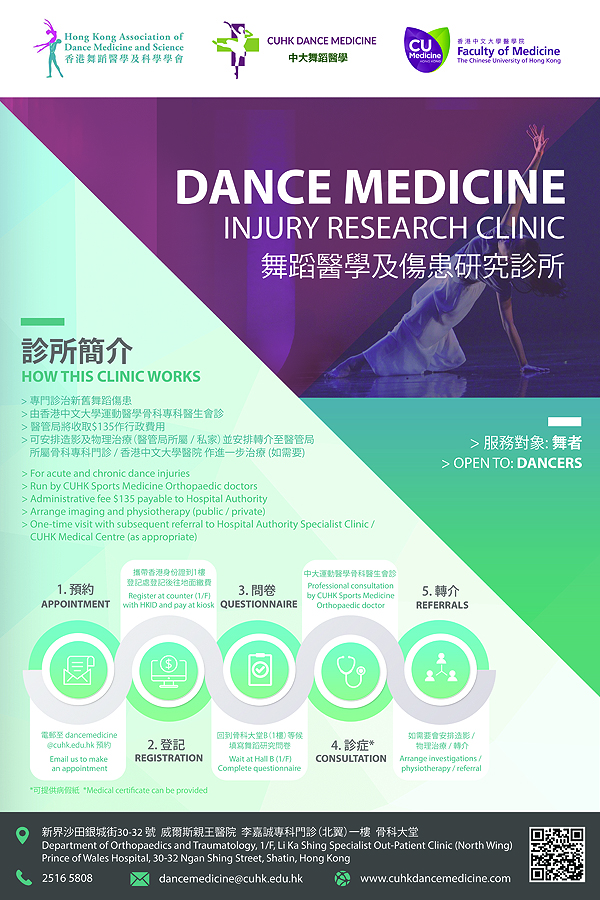 Consultations can be
scheduled at the
CUHK Medical Centre
(852) 35052515
Remind staff you are a dancer to get the "Dancer Discount"
Private Sector
Consultation
Dept of Orthopaedics and Traumatology, Faculty of Medicine CUHK